Creating a Family Learning Trip During the Bar/Bat Mitzvah Year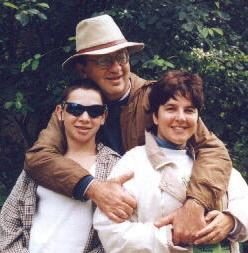 Mark: "It seems my mother thought that the best way for me to experience my pre-Bar Mitzvah was by being stranded on a boat, floating away from civilization while practicing for the big day.
And although surviving without an internet connection, phone communication, cable television, and other necessities, all in all it was the motivation I needed to sit down and learn my Bar Mitzvah readings.
Do you want to hear more? The coolest things we did were taking a helicopter ride to walk with crampons on a glacier and see moose from the sky, and also going on a serious white water rafting trip.
I started off with a very long plane ride to Seattle. From there I took a bus to Vancouver. I left on a two week cruise ship up the Alaskan Coast [Whales! Puffins! Icebergs!].

Then we went back to Seattle. From there we took a car down the Oregon Coast to a Jewish family camp experience that was very fun and interesting.

Why did we take a Bar Mitzvah preparation trip? We live in New Jersey. Isn't that enough of an explanation? Well, here's my mom's reasoning:

Reb Goldie: "While reading Mark's Torah portion with him I was thinking about what aspects of life did the portion seem to be recommending that I reveal to my son, or at least explore with him.

Noah is a portion that reveals the power of nature, the importance of preserving species, the power of any one human to hear this message and the voice of God and to pursue it as a mission in life. I would like my son(s) to feel guided, to experience awe, and to take action at creating a better world.

I also hoped this trip would be a long-term memory for Mark of a time we prepared together, examining the issues in his portion, while exploring them in nature.

What is it about the Torah portion for the b-mitzvah in your family that might lead to some remarkable field trips?
And, although we didn't go to Israel this time because we have a parent too elderly to be able to go the distance. Keep Israel in mind for one of your family trips because it is the only place in the world where all of the Torah comes to life!